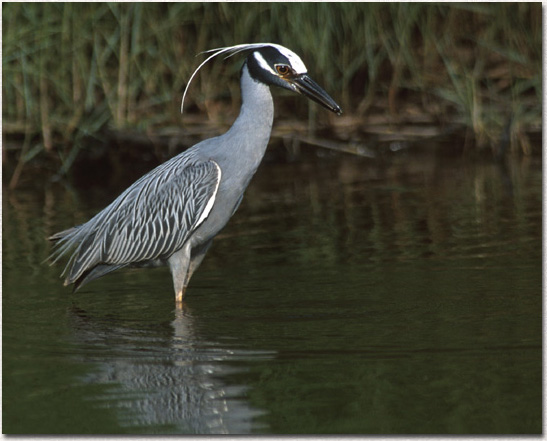 Despite the fact that most of the wildflowers were mown to the ground, there are still some resilient evening primroses blooming along the edge of the Reach (in the area where the Easter Seals folks left the vegetation taller). This morning, I still saw about 4-5 white-lined
hawkmoths
(at minimum) flitting around the banks. Whew!
Also ran into a
yellow-crowned night heron
perched on the mid-reach pipe just above a lurking snapping turtle. It swoooshed away and was later heard squawking from the tips of the branches of large elm tree on the south side by the picnic table. (Note, the photo above is not on the Reach...I only wish I could take such photos!)
Some fish are beginning to create breeding territories in The Bathtub - you can see the territories as circles along the creek bottom that are devoid of debris. The males clear these out, defend them, and await for females to choose their circle to lay eggs (well, that's generally how it goes). I don't know which species of fish this is, but I think it may be a type of sunfish.